L'entreprise ARES International (Asset Recovery and Environmental Services) a été fondée en 2008 aux Pays-Bas. Elle est devenue, ces dernières années, un acquéreur et fournisseur stable de matériel TIC. En tant que spécialiste dans le domaine des produits et de la gestion informatiques, Ares International est un partenaire professionnel pour le suivi, le déménagement, le stockage, le test, la revente et l'élimination de matériel informatique obsolète ou vieux.
CE QUI FAIT ARES UNIQUE..
Votre partenaire mondial en solutions d'actifs informatiques.
Une vaste gamme de produits
Une excellente qualité
Des prix bas
Une livraison rapide
Garantie limitée d'un an
Assistance fiable
30 ans d'expertise informatique
La connaissance des produits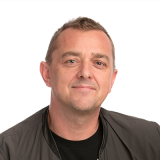 Koen van Leeuwen
Senior Trader Converge Amsterdam
It is a pleasure to work with Jesse and his company Ares. They are supplying good quality product for a reasonable price. The delivery is quick and secure. Had never problems with any order from them, that is why he is one of our top suppliers. Also we supply Ares parts and the quickness and smoothness that our orders go through is amazing. Also the payments are always in time, it is a pleasant company to deal and work with.