ARES International (Asset Recovery and Environmental Services) was established in the Netherlands in 2008. Over those past few years, we have grown to become a stable consumer and ICT equipment provider. We are IT product and IT management specialists. We are the professionals that can help you follow, move, store, test, resell and remove your antiquated or old IT material.
Your Global IT asset solutions partner.
A wide product range
Excellent quality
Low prices
Fast delivery
One year limited warranty
Trusted Support
30 years IT expertise
Product knowledge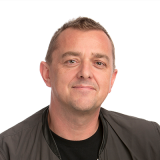 Koen van Leeuwen
Senior Trader Converge Amsterdam
It is a pleasure to work with Jesse and his company Ares. They are supplying good quality product for a reasonable price. The delivery is quick and secure. Had never problems with any order from them, that is why he is one of our top suppliers. Also we supply Ares parts and the quickness and smoothness that our orders go through is amazing. Also the payments are always in time, it is a pleasant company to deal and work with.